Animal PAK – Animal Planet (Hosted by DJ Evil Dee) (Mixtape)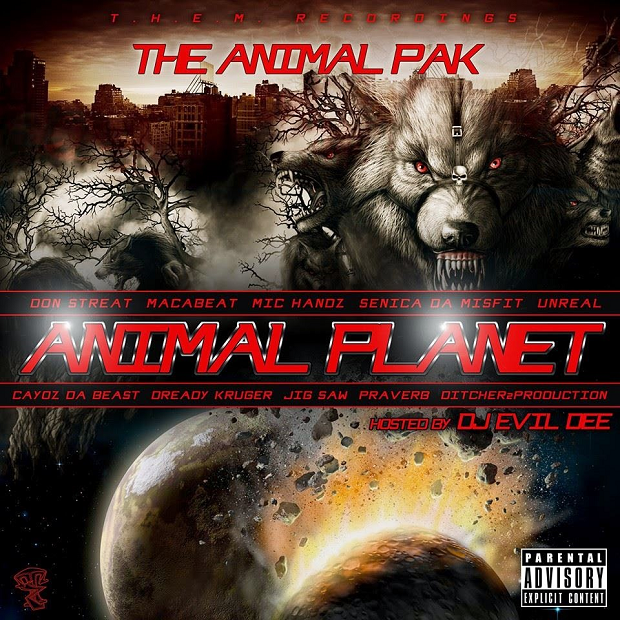 T.H.E.M. Recordings have unleashed their Animal PAK on the world. "Animal Planet" is hosted/mixed by the legendary DJ Evil Dee (of Black Moon), featuring the godfather Kool G Rap. The supergroup consists of pure animalistic rage and hunger manifested in the form of lyrical feasting, under the leadership of Don Streat. The PAK terrorizes tracks and venues across the nation and overseas, with backdrops provided by an array of international craftsmen, led by Dichter2Productions (Germany), Cool FD, Alterbeats (France), These Handz (Belguim+UK), Hazernomical, Cayoz The Beast, Vanderslice (USA) and more.
"Animal PAK" consists of 10 powerful solo artists that span from California to Maine, and Baltimore to New York. The kennel of lycans include Dready Kruger, Don Streat, Unreal, Mic Handz, Cayoz The Beast, Senica Da Misfit, Macabeats, Jigsaw, O*Zee and Dichter2Productions. I pray the world is ready… and I beg of you… "DONT FEED THE ANIMALS!"
Listen: http://www.audiomack.com/album/them-recordings-1/animal-planet-1
No comments yet.
Top Posts

Archives

Website Links

Advertisements
Comments

Catagories

Search